⚡️ Meetup: Soldering Workshop with Mitch Altman at Garoa Hackerspace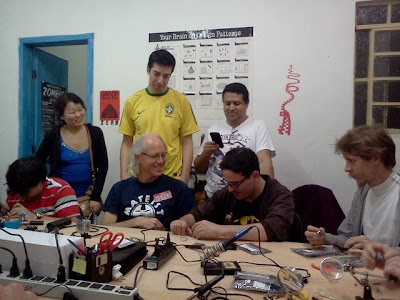 In this workshop with Mitch Altman at the Garoa Hacker Club, participants had the opportunity to learn about hackerspaces and soldering techniques. A hackerspace is a community laboratory, workshop, or studio where people with common interests, usually in science, technology, digital art, or electronics, can meet, socialize, and collaborate.
The idea behind the workshop was simple: participants could bring something from home that they needed to solder or purchase a kit on the spot sold by Mitch himself. The kits included LED displays that could display messages or images, shields for Arduino and Arduino clones, and even the famous "tv-be-gone" created by Mitch himself.
During the workshop, Mitch shared basic techniques for good soldering, and a version of his explanation is available in Portuguese (PDF). The initial part of the explanation can be seen in the video (including a moment where they were looking for a resistor that was left under something else).
It was a great opportunity for participants to learn from one of the biggest names in the hackerspace phenomenon and to collaborate with like-minded individuals.