🥈 Hackathon Campus Party 2014 SouJava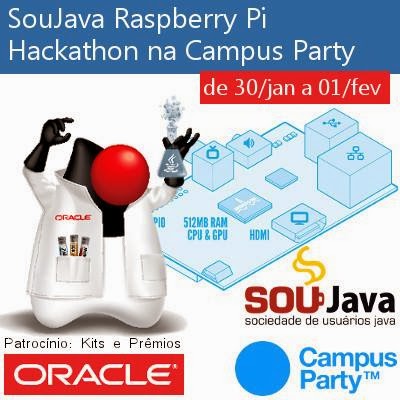 Recently, I participated in the IoT Hackathon with Raspberry Pi and Java, organized by the SouJava team at the Campus Party Brazil 2014 event, and I'm thrilled to announce that my team won second place with our project, RaspLauncher.
Our project was a small launcher (similar to a small robotic arm) that throws objects, controlled through an Android app. The hackathon was a two-day event where we built teams, brainstormed, attended training, received a kit from the organizers, and hacked on their own project.
Onsite experts were available to help participants, including veteran Java developers of web, enterprise, and embedded development.
It was an intense, challenging, and exciting experience, and I learned a lot about IoT and Java development, as well as the importance of teamwork and creativity. I'm grateful to my team members, diegocarloslima, pondaco, and I ezefranca, for our hard work and collaboration throughout the hackathon.
Overall, it was an amazing event, and I encourage anyone interested in IoT, Java, or hackathons to participate in similar events. To learn more about IoT, check out the Raspberry Pi and Java Tutorials: Working with Java Embedded 8 by Using the Raspberry Pi Series, and visit the IoT community page to connect with other enthusiasts, hobbyists, and experts.
Finally, I want to thank SouJava and the organizers of the hackathon for creating such a wonderful opportunity for me to learn and grow as a developer.