🥇 Hackathon TV Globo 2016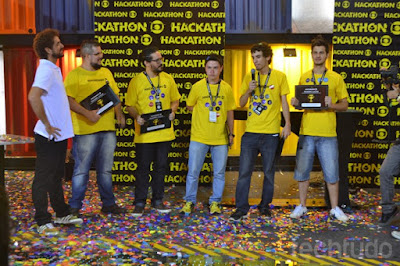 After 33 hours of coding, team work, sun, swimming pool, pizza, burgers, milkshakes, and energy drinks, the Group 3 won the Hackathon Globo 2016 challenge with a project on GIFs. The idea was to implement GINFO, a synthesizer of headlines and news in animated images. The judges approved the project built by Ivan Seidel, Bruno Lemos, Guilherme Gonzalez, Fábien Oliveira, and Ezequiel França.
The winners were announced by the master of ceremonies Felipe Andreoli with a lot of celebration at the Big Brother House.
The complete prize winners of Hackathon Globo 2016 are:
1st place: Group 3 (GINFO)
2nd place: Group 4 (Globo Comigo)
3rd place: Group 10 (Globo Imersão)
Honorable mentions of G1: Globo Imersão (Group 10)
Honorable mentions of GShow: GINFO (Group 3)
Honorable mentions of GloboEsporte: Torcida Globo (Group 2)
The Group 3's victory received media attention from Techtudo, where the project and the team's achievement were covered.
The project was demonstrated in a video, which can be seen below:
Winning the Hackathon Globo 2016 with GINFO was an amazing experience for me and my team.
It was an opportunity to showcase our skills and creativity. We are proud of our achievement and grateful for the opportunity.