🥇 Hackathon FIESP - Winning App 🏆
Yesterday, my team and I participated in the FIESP Hackathon, a 24-hour marathon competition aimed at promoting innovation in app development. We were thrilled to have the opportunity to showcase our skills and compete against other talented developers.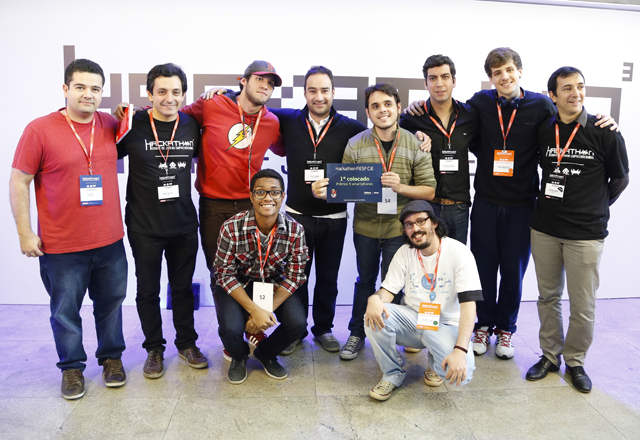 The winners in the Electronic Industry category with the Live Cube project. Team members (from left to right): Gilmar Junior, Mario de Castro and Rafael Macito. Crouching (from left to right): Humberto Vieira and Ezequiel França. Photo: Tâmna Waqued/Fiesp.
Our team, called PoliMoto, was inspired by the theme of fostering closer relationships between parents and children. With this in mind, we developed an app called Live Cube, which allows parents to interact privately with their children by exchanging messages, sharing tasks, monitoring location and mood, and more.
Our hard work paid off when Live Cube was named the winner in the Electronics Industry category! We were overjoyed to receive this recognition for our innovation and dedication to solving real-world problems.
Beyond the competition, the FIESP Hackathon was a fantastic experience that allowed us to learn from experts in various fields and network with fellow developers. We also received media attention for our award-winning app, which was an exciting opportunity to showcase our work to a wider audience.
We want to express our gratitude to FIESP and the Hackathon organizers for providing us with this incredible opportunity. We are also grateful to our team members, Gilmar Junior (designer), Humberto Vieira Castro (developer), Mario Roberto Suruagy de Castro (business), and Rafael Macito Zils (business), who worked tirelessly with us to bring Live Cube to life.
Overall, participating in the FIESP Hackathon was a truly unforgettable experience that challenged us to think creatively and work collaboratively. We look forward to future opportunities to innovate and create meaningful solutions with technology. 🚀
Links: